Food Menu
From starters to desserts — and every delicious entrée in between — Copper Cock Tavern's fare is sure to please casual diners and foodies alike. Your dinner is served!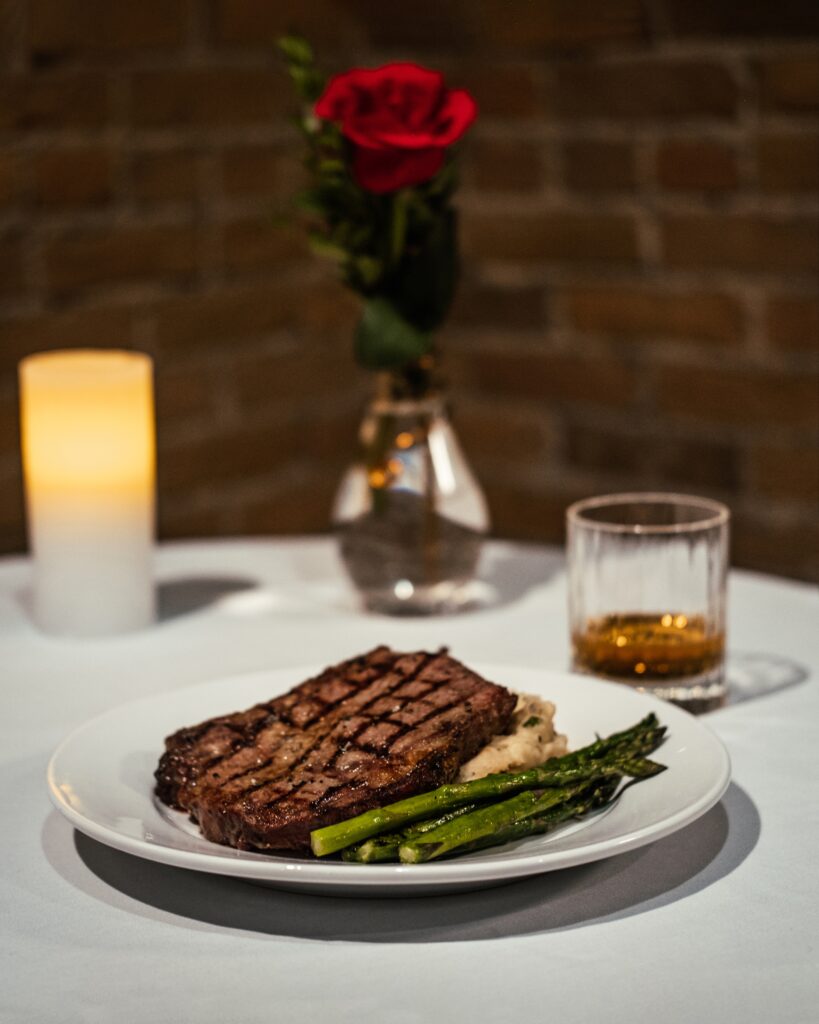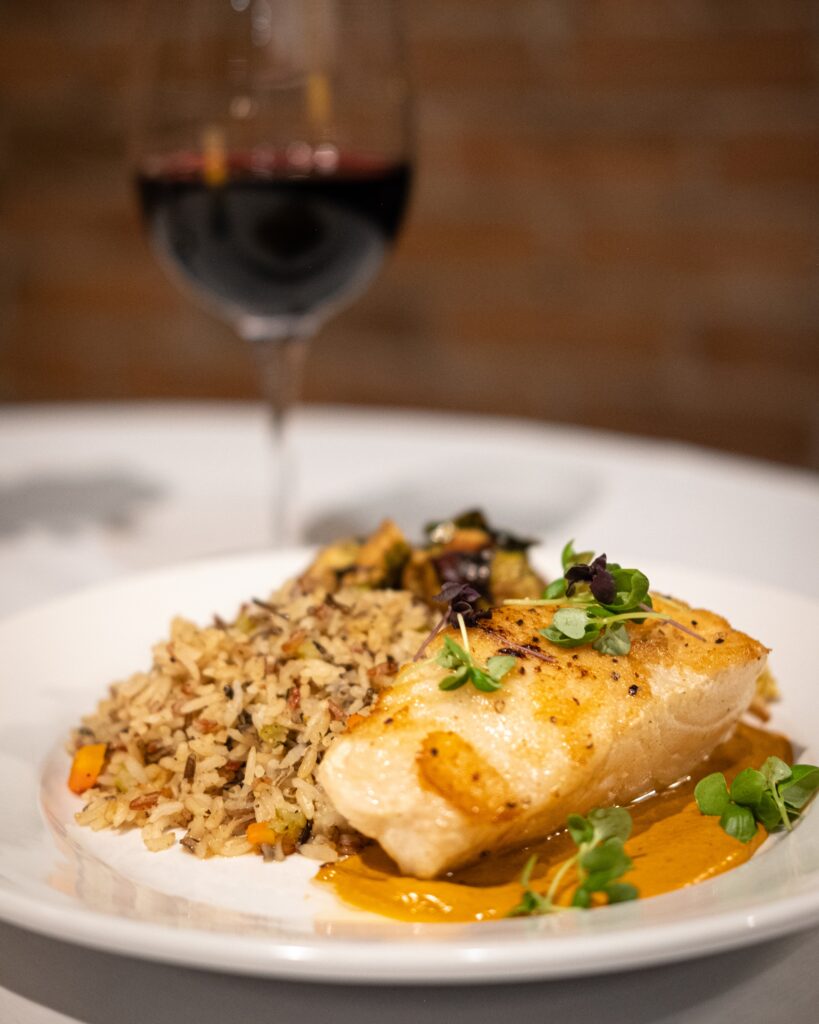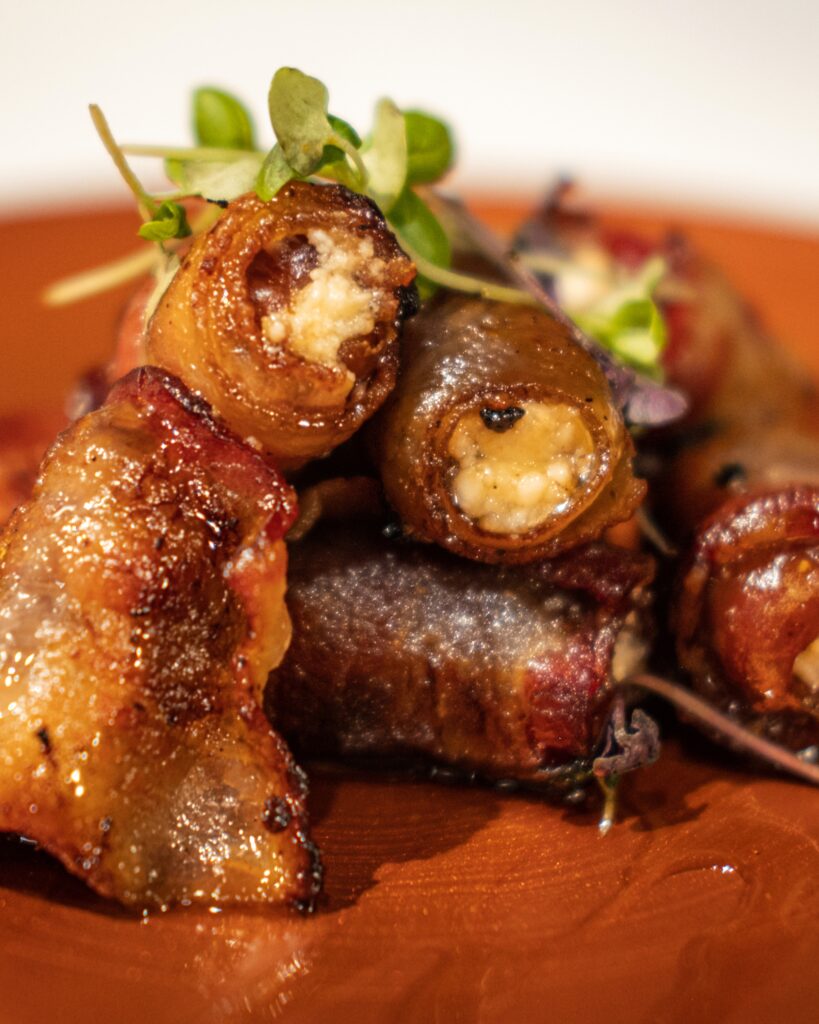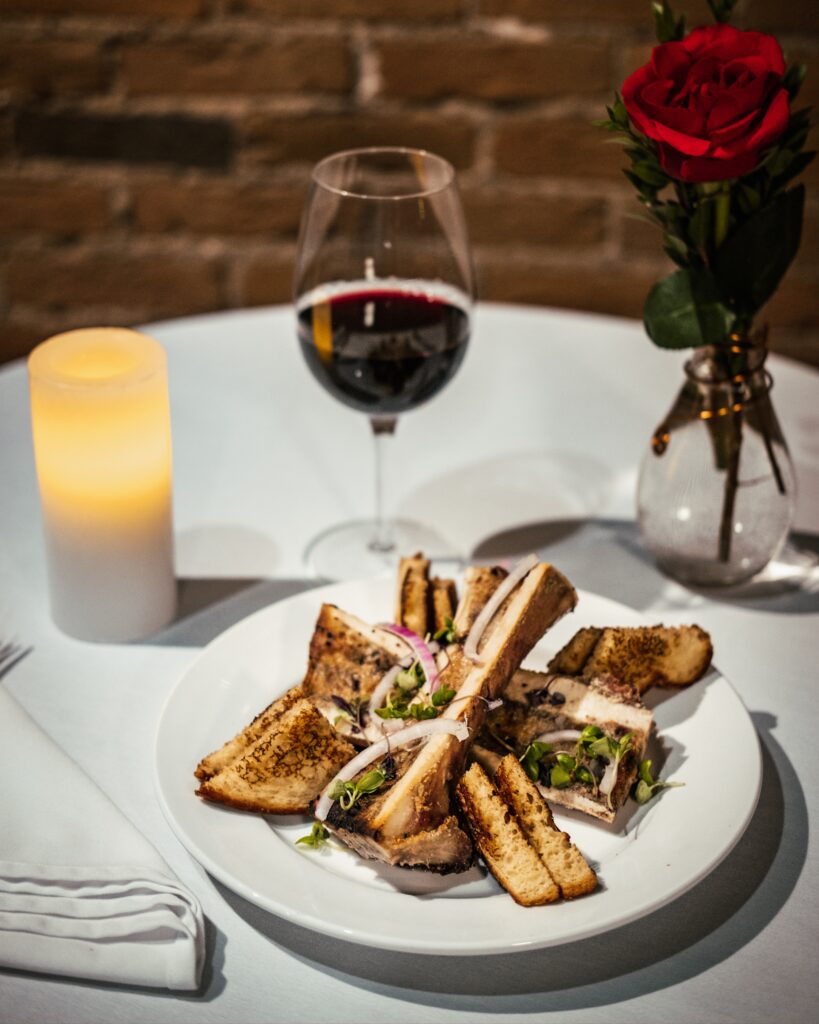 Starters
Grilled shrimp with chimichurri *GF
Escargot in herbed  lemon butter with toasted baguettes
Charcuterie board with Chef's selection of fine cheeses, meats, breads
Wagyu beef carpaccio with capers and pine nuts drizzled with olive oil topped with flake salt and ribbon parmesan *GF
Bacon-wrapped goat cheese stuffed dates, drizzles with spiced, warm honey *GF
Summer strawberry bruschetta with goat cheese and strawberry balsamic vinegar over crostini
Jumbo lump crab cakes (2) with Cajun remoulade
Main Courses
Includes choice of starch and vegetable
12 oz. Ribeye bone-in and 45-day aged *GF
10 oz. Filet Mignon *GF
6 oz. Filet Mignon  *GF
Pan-seared halibut with mango salsa *GF
Dusted pan-seared walleye with chimichurri sauce
Summer strawberry chicken breast topped with mozzarella, goat cheese, red onion, strawberry balsamic vinegar, and basil chiffonade *GF
8 oz. Norwegian pan-seared salmon with pineapple pico de gallo
Huli Huli marinated chicken and shrimp with Hawaiian barbecued grilled pineapple and cilantro lime jasmine rice (Entree is paired with rice. Starch selection not include. Additional $6 charge for seasonal vegetables.)
14 oz. French double-cut pork chop with poached pear stuffing and brandied peach chutney
Steak Enhancers (portioned for Main Course pairing only):
Wild mushroom medley *GF
Caramelized onions *GF
"Thirty Main Style" – Bleu cheese encrusted, bleu cheese mashed potatoes, honey soy gastrique and chopped bacon *GF
Oscar style crab cake (1) with hollandaise sauce
Burger Special – Snob's Nob
Premium freshly ground Wagyu beef, topped with caramelized onions, moody blue smoked bleu cheese on a toasted ciabatta bun served with parmesan truffle fries
Vegetarian
Wild mushroom risotto
Add grilled chicken breast
Add grilled shrimp
Salads
Waldorf Salad with mixed greens, golden raisins, apples, candied walnuts, sweet red onions and topped with a maple apple dressing *GF
Copper Cock Tavern Salad with baby spring mix, strawberries, pickled red onions, dried cherries, toasted hazelnuts, ancient grains, goat cheese, and raspberry mint vinaigrette
Add grilled chicken breast
Add grilled shrimp
Sides
Roasted garlic mashed potatoes *GF
Roasted baby reds with rosemary
Roasted diced sweet potatoes with parmesan truffle oil
Wild rice pilaf with ancient greens and feta cheese
Seasonal vegetable selection (ask server)
Desserts
Ask about our fresh daily offerings
Cannoli
Raspberry lemon tiramisu
Creme Brulee (flavor of the day)
Consuming raw or undercooked meats, poultry, and seafood may increase your risk of food-borne illness.
Though we do our best to keep our online menu current, menu offerings and prices are subject to change. Please call our establishment if you have any specific questions related to our menu.
Tequila Flight Tuesdays & Whiskey Flight Wednesdays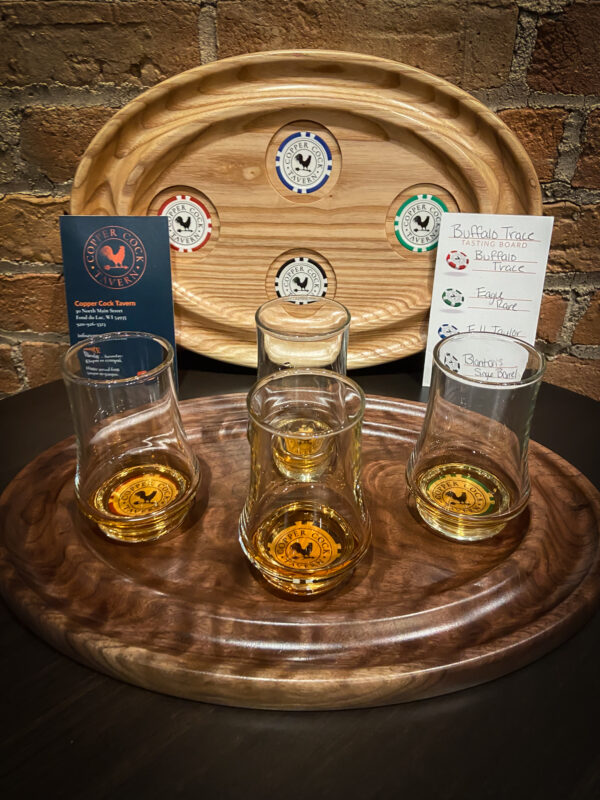 Copper Cock Tavern flight boards are now available to go along with our new tasting features, Tequila Flight Tuesdays and Whiskey Flight Wednesdays. Each flight consists of four 1-oz pours of our most popular, specialty, and allocated spirits. The embedded poker chips correspond with our flight cards.